Join Us for Our Middleton Clinic Open House!
September 14, 2023
The West side is about to get a little brighter! First Choice Dental's Middleton Clinic is moving to its brand-new location at 2501 Parmenter Street on September 18, 2023. You can rely on the same uninterrupted care and quality doctors you know and trust from our old Elmwood location, but now with brand-new amenities we know you'll love.
To celebrate our move, we are throwing a five-day event dedicated to the Middleton community we've come to love. Each day will feature something new, such as a non-profit selling tasty treats or crafts, a ribbon-cutting ceremony complete with cookies and lemonade, and a family fun day featuring all sorts of activities the whole family will love. Check out the graphic below for the full itinerary of our opening event.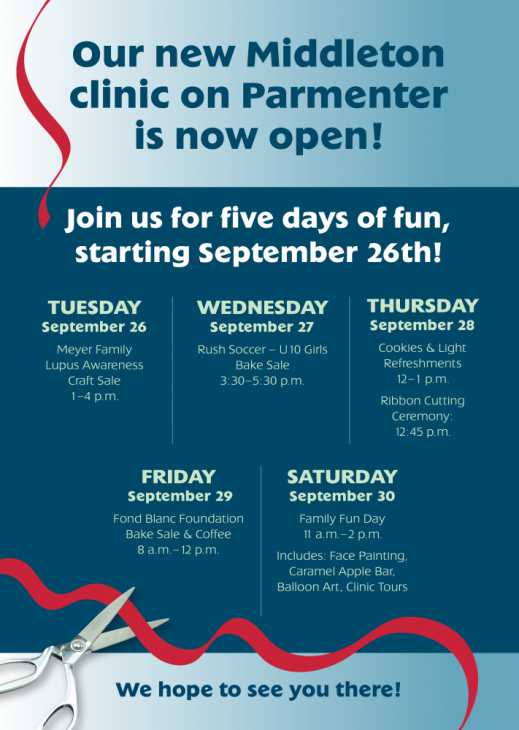 Tuesday, September 26 
Meyer Family Lupus Awareness Craft Sale: 1-4pm 
Wednesday, September 27 
Rush Soccer – U10 Girls Bake Sale: 3:30-5:30pm 
Thursday, September 28 
Cookies & Light Refreshments: 12-1pm 
Ribbon Cutting Ceremony: 12:45pm 
 Friday, September 29 
Fond Blanc Foundation Bake Sale & Coffee: 8am-12pm 
Saturday, September 30
Family Fun Day: 11am-2pm 
Includes: Face Painting, Caramel Apple Bar, Balloon Art, Clinic Tours 
Join us in celebrating our new clinic, supporting Middleton-area non-profits, and having a whole lot of fun!