Porcelain Veneers
Correct crooked, stained, chipped, or broken teeth with porcelain veneers.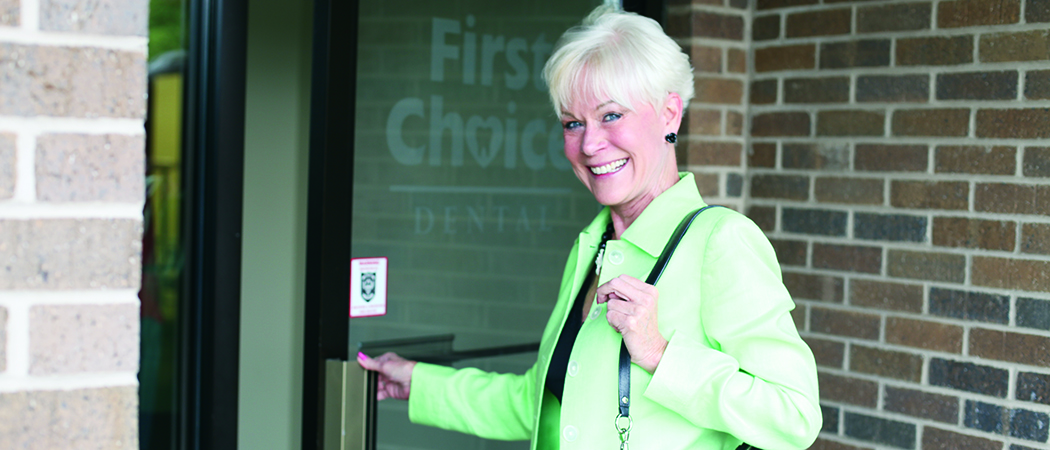 What are Porcelain Veneers?
Porcelain dental veneers can be a dream come true for people seeking a beautiful, natural-looking smile. Veneers are glass-like ceramic porcelain placed on the surface of the teeth, providing a bright, straight, and natural-looking smile.
Porcelain veneers camouflage numerous cosmetic problems, including chips, cracks, discoloration, and misalignment, making them a convenient option for a wide range of patients. For example, many people are dissatisfied with their smile's alignment, but they avoid seeking treatment because they don't want traditional braces. Porcelain dental veneers can be specially fitted to reshape crooked teeth.
Veneers at First Choice Dental
Placing dental veneers requires skill, precision, and the artistry of a talented dentist who's specially trained in cosmetic dentistry. First Choice Dental's cosmetic dentistry experts will listen to your concerns, assess your goals, and create a plan of action to fix chipped, stained, or crooked teeth with porcelain veneers. It usually takes three office visits to have you smiling again.
You and your doctor will work together to determine the size, shape, and type of veneers that will work for your smile and the shape of your face. On visit number two, we will perform the ideal preparation based on the smile you chose, and then we will place temporary veneers that will protect your teeth while the permanent veneers are crafted. On the last visit we place the permanent veneers, and you will leave our office with a brand new, beautiful smile.
Real patients. Real reviews.
I've been a patient since Dr. Giswold was on his own, and at three different offices, because of my moves around the city. I have been extremely pleased with everyone I've dealt with in the more than 30 years involved.
Darlene H.
Patient
As a brand new patient everything went very well and I was extremely satisfied!
Kathryn E.
Patient
This place is 100x better than any other dentist I've been to and I thought I had a good dentist already. I appreciate the care you provide me and my family.
Nadia F.
Patient
Schedule a free Porcelain Veneers Consultation
Interested in Porcelain Veneers? We offer this service at multiple locations. Call us to learn more.