Invisalign
Are you an adult looking to correct your teeth, but don't want traditional metal braces? Invisalign® may be a solution for you!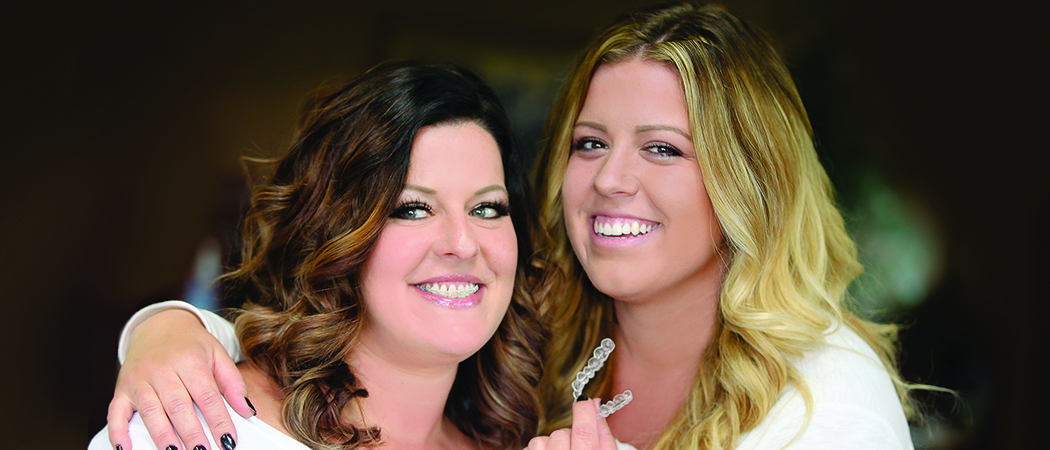 Why choose Invisalign versus traditional braces?
Braces aren't just for kids and teens anymore. We are seeing more adults and teens who want orthodontic treatment—without conventional metal braces. Invisalign gradually moves your teeth into alignment through a series of custom-made, removable aligners (essentially, clear braces that are plastic retainers). With Invisalign removable aligners, you can remove the aligners for short periods of time in professional settings, for photos, to eat, and to brush and floss easily. Invisalign clear aligners also allow you to eat what you want (after removing the aligners), whereas traditional braces require being careful about eating chewy, sticky or very hard foods.
However, Invisalign isn't for everyone. It is a viable option for those with mild to moderate crowding. Treatment with Invisalign is not as effective as traditional braces in cases where teeth are severely crowded or misaligned, or where there's a significant overbite. During your free consultation with a First Choice treatment coordinator, we'll determine if Invisalign is a good choice for you.
What should I look for in an Invisalign Provider?
Choose a certified, experienced orthodontist who can ensure you'll achieve the straight, healthy smile you're looking for with Invisalign or another type of braces.
How does Invisalign compare to mail-order options?
"Do-it-yourself" teeth straightening equipment can do serious, lasting damage to your teeth and gums that can be expensive to fix. Unlike mail-order appliances, every Invisalign treatment begins with an in-person consultation with an orthodontist that considers your entire dental health—and the results are often better.
Real Patients. Real Reviews.
I've had WONDERFUL experiences with y'all (and considering the number of fillings I had when I first came, that's saying something!!).
Sarah M.
Patient
As a brand new patient everything went very well and I was extremely satisfied!
Kathryn E.
Patient
You have been wonderful for my whole family, including both my kids and especially my mom. Thank you!
Julie M.
Patient
Call to Schedule a Free Consultation
Your free consultation includes an exam, x-rays, and a treatment discussion with your orthodontist. There's absolutely no charge, and there's no obligation to find out if you're in need of orthodontic treatment. We will discuss what braces can do for your smile and your oral health—then answer any questions you may have.