Sedation Dentistry
Receive exceptional, anxiety-free dental care
If you have dental anxiety, you're not alone. Half of the adults in the U.S. won't visit a dentist because they feel uneasy. At First Choice Dental, our goal is to ensure that no one avoids going to the dentist due to fear. One powerful option for overcoming this hurdle and getting the care you need is sedation dentistry.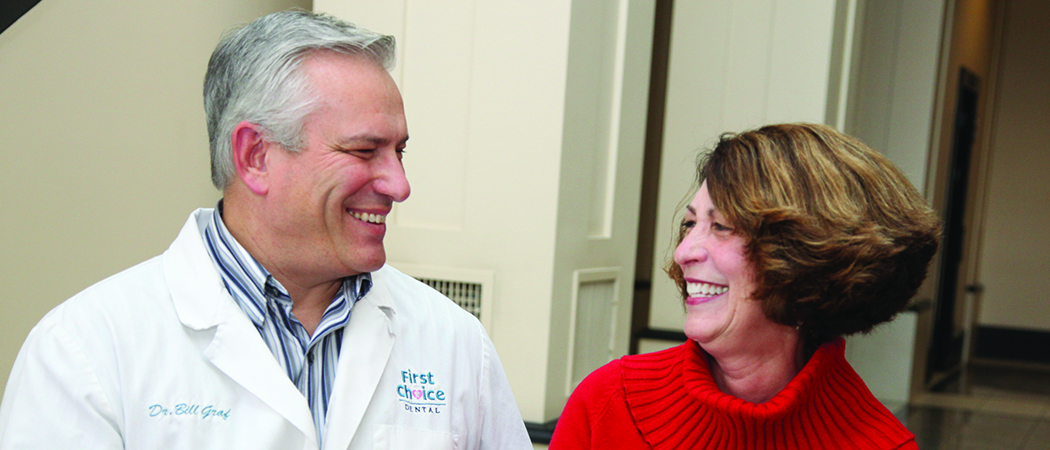 What is sedation dentistry
Sedation dentistry is a safe and effective way to have years of dental treatment completed in just one or two visits. For phobic patients, the ability to have a lot of needed treatment done in one appointment, or to visit the dentist without anxiety, is truly life-changing.
Our sedation dentists are experts trained to administer a small dose of medication that will help you relax throughout your dental appointment, with little or no memory of the procedure.
Is sedation dentistry right for you?
Sedation dentistry may be right if you…
Regularly cancel dentist appointments due to apprehension.
Have put off dental treatment for a long time and are overdue for significant dental care.
Have a lot of fear about going to the dentist.
Have had traumatic dental experiences in the past.
Have ever been told that you aren't "yourself" before or during a dental visit, due to stress or anxiety.
Real patients. Real reviews.
I've been a patient since Dr. Giswold was on his own, and at three different offices, because of my moves around the city. I have been extremely pleased with everyone I've dealt with in the more than 30 years involved.
Darlene H.
Patient
Everyone has always been extremely helpful and flexible with me and my crazy schedule.
Robyn D.
Patient
You have been wonderful for my whole family, including both my kids and especially my mom. Thank you!
Julie M.
Patient
How it works
At your free sedation dentistry consultation, you and your sedation dentist will outline your plan for dental treatment and schedule your treatment.
Your sedation dentist will prescribe you two pills—one to take at night before your appointment, and the other to take the morning of your dental appointment.
Patients are assessed when they arrive at the office for their appointment and more meds may be given at that time.
You will arrive for your dental appointment ready for an anxiety-free appointment where you can get the dental care you need.
Schedule your FREE consultation
If you are interested in learning more, you can call us to schedule a free dental sedation consultation, where you can meet the dentist, learn more about the process, and discuss the treatment you may need. Our patients find this no-risk, no-charge consultation puts them right at ease.