Email:
sunprairienorth@firstchoicedental.com
Address:
119 Wilburn Rd.
Sun Prairie, WI 53590

Get Directions >
Hours
Monday 7:00 AM - 5:00 PM
Tuesday 7:00 AM - 5:00 PM
Wednesday 7:00 AM - 5:00 PM
Thursday 7:00 AM - 5:00 PM
Friday 7:00 AM - 4:00 PM
Services
General Dentistry | Family Dentistry | Pediatric Dentistry | Cosmetic Dentistry
Clinic Information
At First Choice Dental, the whole family can enjoy gentle dental care from our award-winning dentists! As our Sun Prairie community grows, we're growing with it every step of the way. Located on Wilburn Road off US-151, our office is right in your neighborhood close to home, work, school and play. We've been offering an abundance of sincere smiles and providing comfort-conscious care to thousands of Madisonians for years. We love helping adults, teens and kids sustain – and improve – their dental wellness. We're ready to take good care of you from the moment you walk through the door!
In addition to focusing on physical comfort, our philosophy extends into making sure our patients are emotionally comfortable, as well. Our comfort-conscious technologies and techniques can put even the most phobic of dental patients at ease – taking the fear out of visiting the dentist and making their experience anxiety-free.
Our dentists treat you like family with a genuine concern for your dental wellness. No need to search all over town when you need a dentist or a specialist. At First Choice Dental, we make it easy to get all the care you need!
Dentists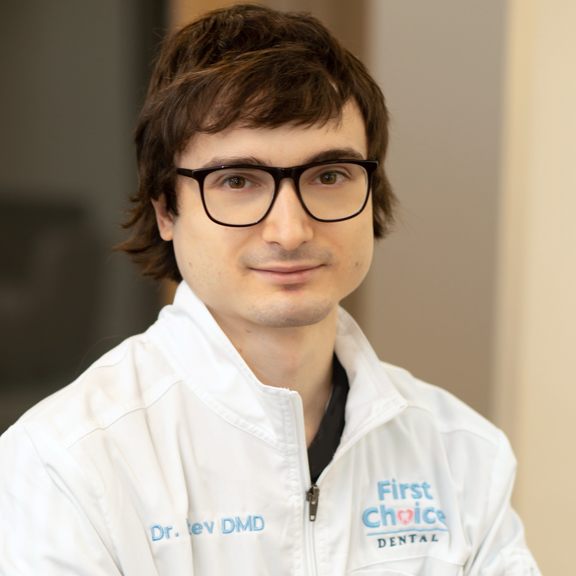 Dr. Milen Matev
Dentist
Read Bio
Sun Prairie North M, W
Madison Downtown T, F
Services
General Dentistry
Schedule an Appointment
Looking to schedule an appointment with First Choice Dental? You've made a great choice. Become a new patient or request an appointment with your hygienist.