Dr. David Penwell
Dentist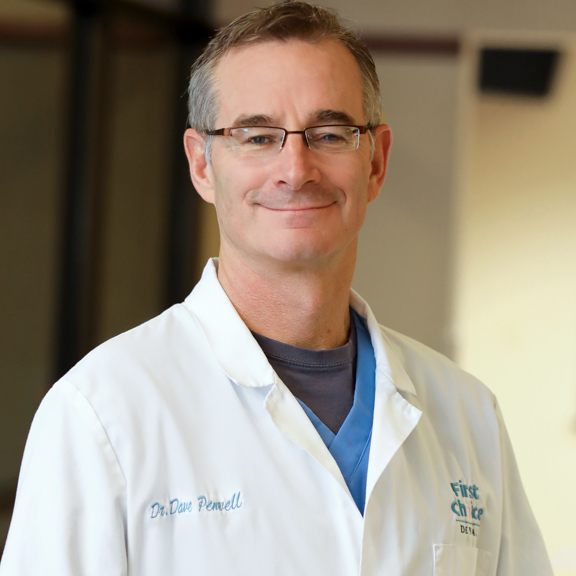 Services Offered
General Dentistry | Dental Implants | Sedation Dentistry
Days & Hours
Verona
Monday 7:00 AM - 5:00 PM
Tuesday 7:00 AM - 5:00 PM
Wednesday 7:00 AM - 5:00 PM
Thursday 7:00 AM - 5:00 PM
Days and hours listed do not indicate available appointment times. Please make an appointment with your clinic.
Credentials
Education
University of Minnesota's School of Dentistry
Continuing Education: Courses in Dental Implants, Sedation Dentistry, Antiseptic and Comfort Procedures and Cosmetic Dentistry
Professional Organizations & Awards
Fellowship in the field of Sedation Dentistry
Certification in Sedation Dentistry
Madison's Top Dentists by Madison Magazine
About Dr. David Penwell
About Dr. David Penwell
Dr. David Penwell is Dental Director at First Choice Dental, overseeing the dental standards and protocol of the doctor team. With a passion to provide a comfortable, anxiety-free care experience using advanced dental technology has created a long and loyal patient following among his patients. Dr. Penwell listens, cares and improves his patients' dental health.
Dr. Penwell is one of a few Madison-area dentists to receive a Fellowship in the field of Sedation Dentistry. He has also completed numerous continuing education courses in dental implants, antiseptic and comfort procedures, and cosmetic dentistry.
Named one of Madison's Top Dentists several times over the years, Dr. Penwell practices at the First Choice Dental office in Verona. With a commitment to improving the health and wellbeing of those in need, Dr. Penwell has traveled on mission trips in Nepal and Dominican Republic to open free dental clinics, and has volunteered for the several other organizations in the Madison area.
Dr. Penwell and his wife, Colleen, live in Verona and have three wonderful adult children. He is an avid outdoor enthusiast who enjoys biking, skiing, hiking, camping and fly fishing.