Dr. David Gundersen
Dentist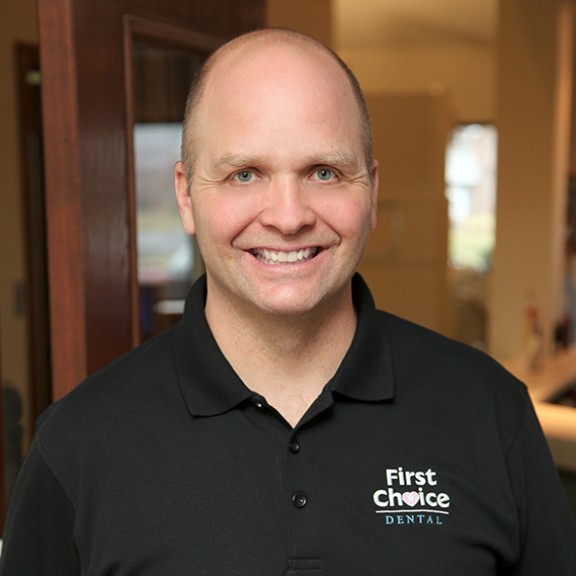 Services Offered
General Dentistry
Days & Hours
Fitchburg
Monday 7:00 AM - 5:00 PM
Tuesday 7:00 AM - 5:00 PM
Wednesday 7:00 AM - 5:00 PM
Thursday 7:00 AM - 5:00 PM
Days and hours listed do not indicate available appointment times. Please make an appointment with your clinic.
Credentials
Education
BA, Yale University, Psychology-Biology
MPH, Rollins School of Public Health, Emory University, Health Policy and Management
DDS, Marquette University School of Dentistry, General Dentistry.
About Dr. David Gundersen
About Dr. David Gundersen
Dr. David Gundersen is a native of La Crosse but has lived in Madison for over 20 years. Prior to pursuing a career in dentistry, Dr. Gundersen focused on promoting child and family health, running Wisconsin's School Health Programs and the Wisconsin Tobacco Control Board before attending Marquette University School of Dentistry. Dr. Gundersen celebrated his 10-year anniversary with First Choice in 2021, and is currently Chair of the First Choice Clinical Leadership Committee.

Dr. Gundersen has been very active at the state and local level in assuring every Wisconsin resident gets dental care. He has served as a board member of the Children's Health Alliance of Wisconsin, the Wisconsin Public Health Association, and as the Marquette Student Trustee on the Wisconsin Dental Association Board of Trustees. He is a member of the Greater Dane Dental Society, and previously served on the Steering Committee of the Wisconsin Oral Health Coalition and as President of the Oral Health Coalition of Dane County. Dr. Gundersen volunteers for the More Smiles Wisconsin free clinic at the Madison Salvation Army and is the Founder of the Verona Smiles Initiative. Verona Smiles is a partnership with the Verona Area School District, the Bridging Brighter Smiles programs, and other local dentists to assure that any student in the Verona Schools who needs dental care gets it.

When not practicing dentistry, Dr. Gundersen enjoys traveling, reading, watching movies, cycling, hiking, sailing and cross-country skiing with his wife Amie and daughter Lucie. He has also published two children's book, Blacktooth and Dentina, under the pen name of Davie Fletcher.