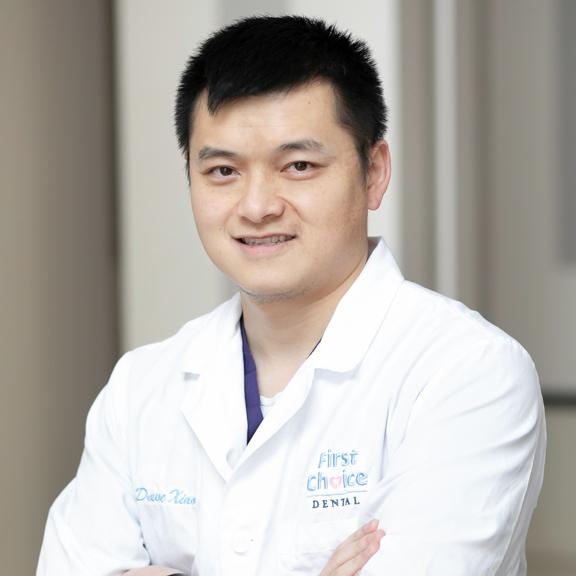 Services Offered
General Dentistry
Days & Hours
Fitchburg
Tuesday 7:00 AM - 5:00 PM
Wednesday 7:00 AM - 5:00 PM
Thursday 7:00 AM - 5:00 PM
Friday 7:00 AM - 4:00 PM
Days and hours listed do not indicate available appointment times. Please make an appointment with your clinic.
Credentials
Education
Doctor of Dental Medicine - Midwestern University College of Dental Medicine
Master of Arts in Biomedical Science - Midwestern University
Bachelor of Science in Nursing - Northern Illinois University
Associate of Science in Nursing - Elgin Community College
About Dr. Dave Xiao
About Dr. Dave Xiao
Dr. Dave Xiao (Dr. Dave) received his Bachelor's degree in Nursing from Northern Illinois University and his Master's degree in Biomedical Science from Midwestern University prior to receiving his Doctorate of Dental Medicine from Midwestern University. Dr. Dave enjoys many aspects of dentistry, but finds it most rewarding when a patient comes in with dental pain, and he is able to treat them. The immediate gratification of helping a patient become pain free is what keeps Dr. Dave motivated.
Originally from the suburbs of Chicago, Dr. Dave is excited to experience all that Madison and the surrounding area has to offer. In his free time, Dr. Dave loves outdoor activities including hiking, site seeing, bicycling, fishing and volleyball. During the winter months, he is an avid Netflix binger and loves to snowboard when there is fresh powder. When he is not practicing dentistry and exploring Madison, he loves to travel. He has visited Korea, Japan, China, Amsterdam, Germany, Czech Republic, Dominican Republic, Mexico and many states across the U.S. He hopes to visit many more countries and states in the future.