Madison East - Moving Soon!
Email:
east@firstchoicedental.com
Address:
258 Corporate Dr.
Ste 201
Madison, WI 53714

Get Directions >
Hours
Monday 7:00 AM - 5:00 PM
Tuesday 7:00 AM - 5:00 PM
Wednesday 7:00 AM - 5:00 PM
Thursday 7:00 AM - 5:00 PM
Friday 7:00 AM - 4:00 PM
Services
General Dentistry | Family Dentistry | Pediatric Dentistry | Cosmetic Dentistry
Clinic Information
Our East Madison dental office has been offering an abundance of sincere smiles and providing comfort-conscious care to thousands of Madisonians for years. To serve you in a convenient new location, we are moving to 1809 E. Washington Ave on May 21st! Existing patients have been notified, and appointments on or after that date will be held at our new location in the Marling building. Want to make an appointment? Just give us a call and we'll get you the care you need on the timeline you need. Joining us before May 21st? You'll come see us at our Corporate Drive address on Madison's East side. Whether you're a new or existing patient, our staff is excited for you to make the move with us.
Learn more about the move and make your appointment today.
In addition to focusing on physical comfort, our philosophy extends into making sure our patients are emotionally comfortable, as well. Our comfort-conscious technologies and techniques can put even the most phobic of dental patients at ease – taking the fear out of visiting the dentist and making their experience anxiety-free.
Our team of dental professionals are at the top of their field and trained in the latest dental health techniques. No need to search all over town when you need a dentist or a specialist. At First Choice Dental, our goal is to make maintaining your dental wellness as easy as possible.
Dentists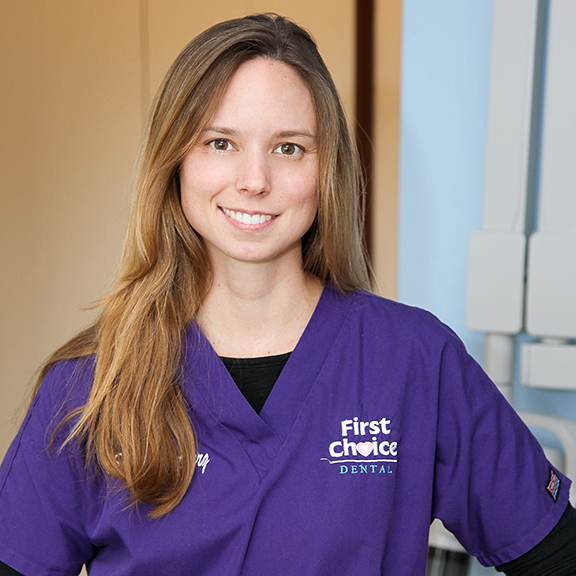 Dr. Sarah Squires
Dentist
Read Bio
Madison East - Moving Soon! T, W, Th, F
Services
General Dentistry
Schedule an Appointment
Looking to schedule an appointment with First Choice Dental? You've made a great choice. Become a new patient or request an appointment with your hygienist.
Schedule an Appointment